About Four Winds Chiropractic in Swansea MA
Dr. Jeff Tosch has provided excellent care to Coventry for nearly two decades. With the goal of reaching more patients and positively impacting a greater number of lives, he opened his second location, Four Winds Chiropractic in Swansea, Massachusetts, in April 2018. Since then, his passion for chiropractic care and whole health has continued to evolve and leave a lasting impact on his patients in Swansea MA.
Trusted Care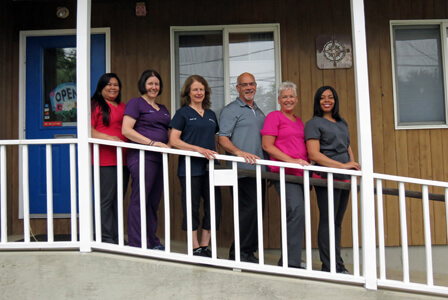 Our practice is proud to offer care that works. Trusted by people of all ages and conditions, our services have been proven to decrease nagging symptoms while simultaneously increasing overall health. Whether you are looking for headache relief or resolved back pain, we have the comprehensive care you need to feel better. Why wait to take advantage of a safe, drug-free answer to your pain and discomfort? You are in the best hands with our highly skilled professionals on your side.
A Service for Every Need
Four Winds Chiropractic is your one-stop practice for whole health. No matter your needs, we are here to support you and offer our expert guidance throughout your journey to a happier, healthier lifestyle. In addition to chiropractic care, we are proponents of massage therapy, healthy feet, proper nutrition, stress management, TMJ relief, and prevention.
We believe that for your chiropractic adjustments to hold, proper attention must be paid to other aspects of your health. Our practice is glad to help you maintain wellness through quality, natural health care.
Join Our Community Today
We look forward to getting to know you, understanding your health, and helping you live your life to the fullest! Now is the time to join a practice that is dedicated to your health. Achieving your health goals has never been easier.
Contact our practice for additional details regarding what we have to offer you and your loved ones. Today is the day to take back your health!
CONTACT US
---
Swansea MA Office | Four Winds Chiropractic