About Four Winds Chiropractic in Coventry RI
Dr. Jeff Tosch graduated from chiropractic college in 1998 and moved to Coventry in 2000. While in college, he heard a doctor speak at a seminar who had told the students to take chiropractic and spread it to the Four Winds. That philosophy resonated with him, and the name for Four Winds Chiropractic was born.
Our Practice Philosophy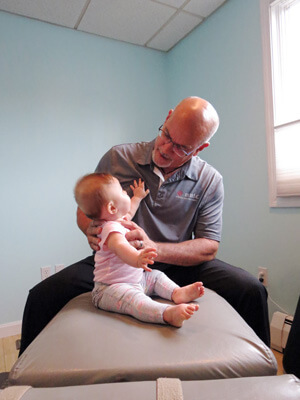 We're here to help as many people as possible to be well and to reach their optimal health goals without resorting to the use of drugs or surgery. We expect to see quick results for all of our patients and are here to let you know that there is hope. Even if you've seen other doctors without getting better, we feel confident that we can address your needs and work toward getting you well.
Family Wellness Care
Families and children are warmly welcomed at Four Winds Chiropractic. "The oldest patient is 95 and the youngest is a couple of weeks old," says Dr. Jeff. We're a ''wholeistic" practice, so your whole person will be cared for.
We'll look at several different aspects of your lifestyle to help you achieve your health goals. According to Dr. Jeff, if you want to stay young and achieve what you want to achieve, there are several things that go into that recipe such as exercise and nutrition. Helping you to take care of yourself is key to staying well, and our entire team will be here to assist you along the way.
Techniques for All Conditions
Dr. Jeff has mastered a wide variety of chiropractic techniques so he is able to address many common concerns, such as:
Headaches
Back pain
Neck pain
Our patients tell us all the time that they feel so much better than they ever felt in their lives. It keeps us loving what we do, and we want to share that with you.
Want to Learn More?
Give us a call today and schedule your time to reach better health!
---
Four Winds Chiropractic | (401) 822-3676