Massage Therapy
Massage for Quicker Healing
Did you know your muscles have their own memory? Through chiropractic adjustments, your nervous system is altered. We work to re-educate your body into holding a new pattern. Massage therapy is effective in speeding up that process. Although we love seeing each of our patients, we want you to need our care less and less. Adding massage therapy to your care plan can ensure your body is holding adjustments better.
Meet Our Massage Therapists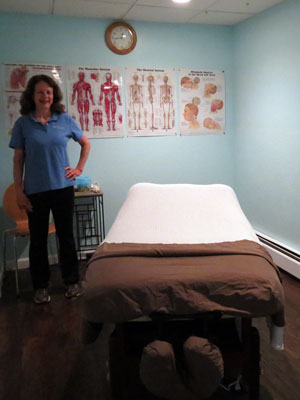 Karen Hynes is a Licensed Massage Therapist, Board Certified NCBTMB, Rhode Island License #MT01915. Karen graduated from the Connecticut Center of Massage Therapy in Groton, CT in August of 2011. Her modalities include Sports Massage and Orthopedic/Rehabilitative Massage, as well as Myofascial Release, Deep Tissue, Trigger Point Therapy, and Swedish Massage. She is certified in Instrument Assisted Soft Tissue Mobilization (IASTM), Massage Cupping and Kinesio Taping. She has provided sports massage to athletes at the Cox Marathon in Providence, RI, Special Olympics, Kingston, RI, Amica Iron Man Triathlon in Providence, RI, Marine Corps Marathon, Arlington, VA as well as traveling to the Olympic Training Center and US Air Force Academy in Colorado Springs, CO, to provide 4 days of sports massage at the Wounded Warrior Games in 2013. Karen addresses issues of muscular tension, injury rehabilitation, and prevention, and every session is customized to the client's specific needs. She is dedicated to her profession and is constantly striving to learn new techniques and to help people live pain-free. She believes keeping active, exercise, stretching and strength training is key to staying healthy, energetic and pain-free, and getting regular massages and chiropractic care, of course! Karen is an avid runner, running in 12+ races a year, from 5K's, 10K's, 10 milers and is training for her first half-marathon in October 2019. She also loves kayaking, cross-country skiing, and going on outdoor adventures with her dog. Karen lives in Richmond with her husband, Tim.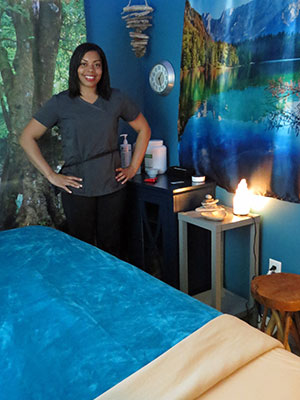 Shondelle is a 2010 Deans list Graduate from Lincoln Technical Institute for massage therapy. She is also a recent graduate of Community College of RI with an associate's degree in Fine Arts (Honors, 2018),associate's degree in Science (Honors, 2019), and a Biotechnology Certification (Honors, 2019). She was also an honored presidential scholar at CCRI. With over 9+ years of experience, Shondelle specializes insports massage, myofascial release, and deep tissue massage. Shondelle also has experience in prenatal massage, Swedish massage, hot stone massage as well. Shondelle also has experience working withspinal cord injuries and neurological trauma patients. The style of massage is very unique and more of a therapeutic massage which incorporates stretching, Range of motion assessments, and structural and muscular alignment focus, But If you are looking for more of a relaxing massage she can do that as well. The focus of her style massages is to educate you on structural and muscular imbalances in the body and gives you tips on how to correct it, whether it be work related or exercise related. With college training in advance fitness and wellness and weight training if you are looking for some guidance she is willing to help. With this experience she is very good at finding those problem areas that you didn't know you had. What does she do for fun? Being an athlete her entire life, Shondelle is a very competitive person and is always up for a challenge. She loves to work out, go to the gym, and play sports. She also enjoys going running with her 2 dogs. Shondelle is an avid animal lover who enjoys feeding and photographing wildlife. If you are an athlete, new to working out, looking for tips on postural correction or structural alignment, deep tissue massage, any type of physical injury, or have neurological problems she might be best for you! But if you are just looking to try something new she is always here ready to greet you with a smile.
A Balanced Body for a Balanced Life
If you have a muscle that's painful, it means there's a dysfunction within that muscle. Chiropractic and massage therapy can restore the normal balance into your neuromuscular system. Personal injury and worker's compensation cases may also need massage as a part of the care plan.
Our Massage Fees
30 minutes: $50
60 minutes: $75
90 minutes: $115
How Can Massage Therapy Help You?
Do you have aches and pains that are holding you back? We can help! Give our office a call today to discuss what we can do for you. CONTACT US
---
Massage Therapy Coventry RI, Swansea MA | Four Winds Chiropractic